Featuring the 'Phoenix' Style

This DVD is presented by national Tai Chi champion, Claire Hager. It is the first DVD to address the physical and psychological needs of women and features over 20 acupressure points for conditions of fatigue, PMS, hot flashes, bone health, water retention, etc. There are warm up exercises (Chi Kung) to relax and energize the body and special exercises for breast health. There is also a segment that stimulates and detoxes the meridian system of acupuncture. All moves of this easy 5 minute style issue from and return to the heart.
THE FIRST VIDEO TO ADDRESS THE PHYSICAL AND PSYCHOLOGICAL NEEDS OF WOMEN
- Take charge of your health & well-being through movement

- Chinese exercises (Chi Kung) to relax & energize the body

- A special exercise for breast health

- Stimulation & detoxification of the meridian system of acupuncture

- Easy 5 minute style 'from the heart'

- Featuring over 20 acupressure points specifically for PMS, fatigue, bone health, hot flashes and water retention.
"One of the most beautiful & effective Tai Chi/Chi Kung forms I have encountered." — Justin Meehan, Tai Chi Tournament Judge
Running time: 60 minutes.
We'll ship your DVDs immediately so you can start reaping the benefits of Tai Chi for Women!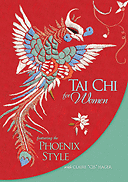 Our other videos: Tai Chi For Seniors - Tai Chi For Healing - Tai Chi For Everyone