Say no to endless medication & yes to Self-Healing!
Learn the
world's most popular
self-healing movements from the "teacher of the teachers", renowned international Tai Chi/Qigong master &
personal instructor to Tom Cruise, Francis Ford Coppola
& more...
Doctors are recommending Tai Chi for
balance
,
stress relief, fatigue
and more because, while other exercises drain you,
Tai Chi is easy and actually
gives you energy!
---
For Beginners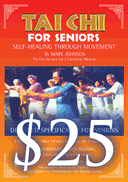 Preview This DVD
For Healing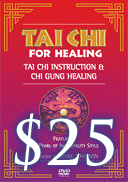 Preview This DVD
For Women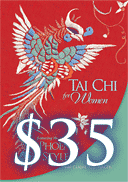 Preview This DVD
---
2 DVD Combo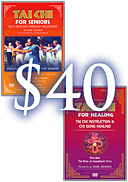 Choose any 2 DVDs
3 DVD Combo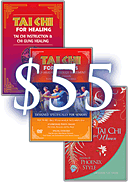 Choose any 3 DVDs
4 DVD Combo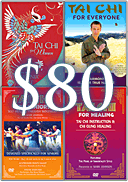 Choose any 4 DVDs
---
---
---
Our promise to you
We believe strongly in our Qigong/Tai Chi DVD programs. We also want to make your shopping experience as pleasant as possible. If you have any questions about our DVDs, you can give us a call at our number: (800) 497-4244 and we'll be happy to answer all your questions. When you are ready to order, we offer both safe and secure online ordering.
All DVDs ship within 1 day of your order, and we stand behind all our DVDs. We also offer free shipping within the US (Canadian orders add $10 shipping). There is no sales tax added unless you live in California.
We've offered our videos and DVDs since 1991, and feel strongly that online businesses need to be held accountable for their products and service. Since signing up, we earned hundreds of positive reviews on Shopping.com, earning a 4½ star rating (out of 5) and more. Our shopping cart uses Secure Socket Layer (SSL) security which encrypts all the credit card numbers in our database. We also subscribe to the Hacker Safe program, which checks our secure server daily. Click here if you wish to read more on our policies.
---
More on the health benefits of Tai Chi
Why waste time, energy & money on fighting moves
when you can learn to heal yourself?
Many Tai Chi DVDs today feature over 24 complex martial art moves with little or no hint as to what the health benefits are, and precious little information offered, or how to get the most healing energy out of every move. Also, many instructors have very limited training and are selling through distributors who are more interested in profits than quality.
In contrast, this video features just 10 simple self healing moves, featuring Master Mark Johnson, who has taught Tai Chi and Qigong for over 50 years and judged over 50 tournaments. Mark has been extensively trained by many famous experts was also highly trained in Qigong and acupuncture, and has masterfully integrated those three healing arts from China, teaching them with playfulness and humor.
Most forms of exercise dissipate your energy and make you tired and hyper at the same time! Our form of Qigong/Tai Chi accumulates energy and leaves you refreshed and relaxed when you finish. Our graceful, fluid movements, coupled with an emphasis on deep breathing and mental focus, can restore balance, decrease stress, and increase calmness and flexibility, which allows for the integration of your mind and body.

Qigong/Tai Chi can also improve your leg and lower body strength, decrease arthritis pain, and aid in the recovery of injuries. For those of you with high blood pressure, a recent presentation at the American Heart Association found that just 12 weeks of Tai Chi resulted in a small but significant drop in blood pressure in seniors.
Because Tai Chi styles come from a martial background, they have a lot of kicks and punches that are simply not useful for most beginners and elderly people. Our Qigong/Tai Chi styles have left out the martial moves and only incorporate the moves with the most health potential. They also include knowledge of the electrical system used in acupuncture. Qigong translates as "Mastery of the energetic flow inside your body". This bio-electrical flow aids in cellular communication, appropriate immune responses and physical coordination. Many of our modern illnesses are a result of a breakdown in this bio-electrical flow within the body. Awareness of that flow brings dimensions of self healing that other forms of exercise and healing systems simply do not have.

Tai Chi Can Improve:
Arthritis

Balance

Immune system

High blood pressure

Osteoporosis

Headaches,
Stress and More!

No longer just a Chinese phenomena, Tai Chi (Taiji) is rapidly spreading throughout the world. It is more popular now than ever before because the millions of people who practice it are living a more active life than those who don't. As a result, many Western doctors are now recommending it to their patients, especially the elderly.
Qigong and Tai Chi are now recognized by the U.S. National Institute of Health's Office of Alternative Medicine as an important method of Alternative Health Care.
Over 75 percent of traditional medical schools in the U.S. now have training in natural medicine
and some medical schools have set up departments to research these styles.
---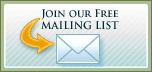 ---
Follow us on Facebook:
---
Learn about
Mark's training
in his delightfully profound book,
Life As Play
NEW!
PERSONALIZED LESSONS
!
Qigong/Tai Chi Master Mark Johnson is now available via
live video
to address your
specific health challenges
, and take your form to a higher level!
Click here for more details...